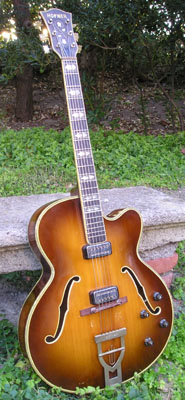 The 468 model was the european cousin of the UK-market Committee, which differed from the Selmer-distributed version for the headstock and fretboard inlays. After the 470 model (the Golden) the 468 was the best Hofner electric archtop.
The guitar you see here was built between 1963 and 1965, as we can tell from the small-surround "staple" pickups and the rare 4-knob and NO selector switch control scheme, more common on the UK version.
Spruce top, gorgeous birds-eye maple back and sides. With a different name on the headstock (... starting with G) a guitar with such beautiful woods would cost 15.000 euros! Five-piece neck, nice bound rectangular pearl/rosewood fretboard inlays. Beautiful back decoration, typical of higher level Hofners, and multi-layer pearloid body binding.
This guitar is very solid, has easy action, no neckset issues, and electronics and tuners work great. Very light and accurate construction. It is fitted with a non original bridge, and the pickguard and the original case are missing. Excellent condition, and the great Hofner "alternative" sound.

front - body1 - body2 - body3 - back - body back - body back2 - headstock - det1 - det2 - inlay - heel - tailpiece - pickup

A very special thank you to Steve Russell of www.vintagehofner.co.uk, a nice website dedicated to vintage Hofner guitars and basses whcih you'll surely like!