GRETSCH 6122 Chet Atkins COUNTRY GENTLEMAN, 1964
We welcome back this gorgeous guitar after a complete binding restoration. The job was done by luthier Salvatore Mancuso using exactly the same material, dimentions and colour of the original. Now the guitar is perfectly playable and we have taken many new pictures.

While on the vintage market you see a lot of late and post-64 Country Gentlemen, it is very difficult to find late '63 or early '64 guitars with ALL the features of George Harrison's second Gent, one of his trademak guitars, used on many Beatles appearances and recordings, among them the milestone Ed Sullivan Show USA appearance of February '64. After that show, Gretsch was pressed by public's demand to increase the production of Country Gentlemen. Unfortunately, in spite of production increase and sales boom, the new Gents were radically different guitars from George's original.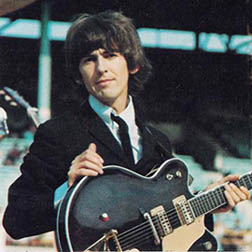 This wonderful early '64 Gent has ALL the right features: two FilterTron pickups (not one FilterTron and one SuperTron), double mutes with red felts (not the black-felt mutes, and obviously not the later single mute), Grover Imperial tuners (not the later "Kidney-Button"), plain pickguard with Gretsch logo (without model's name), serial number and model's name on the gold placque on the headstock front (and not stamped on the headstock back).

All the parts are original, and the guitar is in overall excellent shape. The neck is straight, solid, with easy and low action. Its finish is checked along the middle-line, where the two parts are glued together, but there is no crack in the wood underneath. The finish is in overall good conditions with some playing-wear on the neck and the usual signs of wear of a well-used but non-abused guitar. Some spots show more checking, like the headstock front and the lower bass-bout. There is the typical damage to the finish beneath the back-pad which covers the back cover-plate, caused by contact between finish and backpad's plastic, but this is completely invisible when the back pad is in place. All the gold-plated parts are quite worn and there is some rust on the switch tips.

It comes with a beautiful, near mint and original hardshell case, even complete with its case-key.

The guitar has a fine sound, plays well and all the electronics work properly... and it's gorgeous! With the 6120 and the White Falcon, the Harrison-style Country Gentleman is the most sought-after Gretsch archtop on the vintage market.