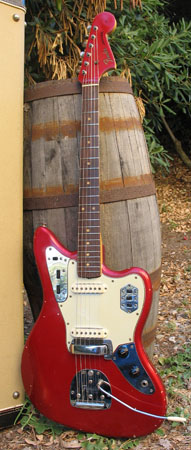 100% original pre-CBS Fender. Should I say more? Neck date November 1963.

This was the missing red in the Jaguars we have had, after the Dakota Red and the Fiesta Red, here is the Candy Apple! Alder body with white primer and silver base-coat like all pre-66 Candys (later it was gold). Original finish in one of the most loved custom-colors, in excellent conditions. As you probably know, early Candy Apple Red used to age much better than late '60s Candy, when the gold undercoat made the color turn darker, almost brown. Furthermore, this instrument has been treated with great care and has arrived to the 3rd millennium in great shape. Brazilian rosewood fretboard with clay-dots and beautiful wood-grain pattern. The back of the maple neck is in ultra clean conditions and shows almost no trace of wear. The headstock's color perfectly matches the body. The logo is intact, and the tuners are the original Kluson Deluxe single-lines. The pickguard is the typical pre-65 green guard, not too yellowed and with no breaks at all. All the chrome plated parts are in excellent condition, including the vibrato with the original arm, the bridge and the mute with the original rubber pad. It's quite rare to find such a complete guitar: even the bridge cover is there. All the hardware is original, including knobs, switches and screws.

We have partially disassembled the pickups because we were afraid to damage them, but they are absolutely untouched and original, just like all the electric parts, solder-joints, potentiometers, shielding plates. The three pots are all dated 48th week of 1963. After taking off the pickguard, we can see that the guitar has lost almost nothing of its original color. We see the two "clamping holes" (pictured in detail), the nail-holes used for the finishing and drying process. Beside the clamping holes this Jaguar also features the classic paint-stick mark in the red layer of the finish, which became the exclusive finish/drying support in '64.

The finish is in excellent overall condition, with some wear along the body edges. The worn spots offer a very interesting chance to see how the metallic color was applied over the silver undercoat and the white primer.
The sound is the great classic Jaguar sound with the preset tonal options. Everything is perfectly working, both in the hardware and the electroincs.
This collectible guitar is complete with the rare and original white tolex hardshell case, typical of 1963, in clean and solid conditions.
in case - body1 - body2 - body3 - back - body back - body back 2 - headstock - logo - knobs - bridge - bridge & trem - vibrato - board - circuitry - pickup - nail1 - nail2 - body cavity1 - body cavity2 - body cavity3 - neck1 - neck2 - switch - mute - pots1 - pots2 - pots3 - pots4 - neck date - neck pocket - neck plate - tuners1 - tuners2 - no guard - undercoat - jack - wear1 - wear2 - wear3 - wear4 - case