D'ANGELICO EXCEL Cutaway, 1959
serial number 2087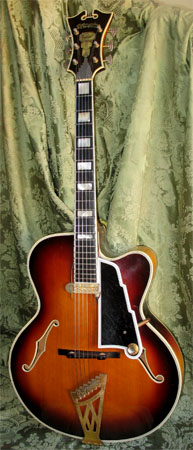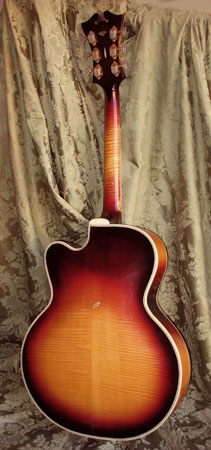 Originale Excel con spalla mancante, realizzata da John D'Angelico tra il Giugno e l'Agosto del 1959 su commissione di Frank Taurisano, chitarrista e band-leader newyorkese noto col nome d'arte di Frank Terris. Finitura sunburst, acero fiammato su fasce, fondo e manico in pezzo unico. Top in abete, tastiera e ponte in ebano, intarsi in madreperla, meccaniche Grover Imperial, pickup sospeso DeArmond 1100. Custodia rigida originale, ricevuta originale firmata da D'Angelico.
Original Excel Cutaway, built by John D'Angelico between June and August 1959 for Frank Taurisano, guitarist and band-leader from New York better known as Frank Terris. Sunburst finish, flamed maple back, sides and one-piece neck. Sprice top, ebony fretboard and bridge, mother of pearl inlays, Grover Imperial tuners, DeArmond 1100 floating pickup. Original hardshell case and original bill of sale signed by D'Angelico.