GIBSON L-5 "Advanced", 1936
serial number 94139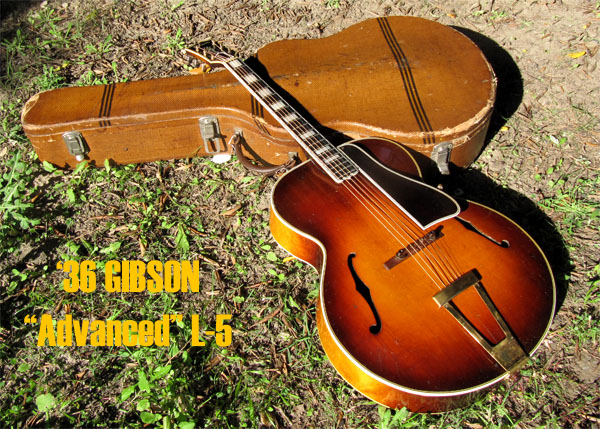 La nuova versione della L-5 con cassa da 17" - per questo chiamata 'advanced'. In questo strumento del 1936 sono presenti ancora molte caratteristiche transizionali come le buche ad f di piccola dimensione e prive di binding e la scala corta (24.3/4") del modello da 16", e altre invece peculiari di questa versione come l'incatenatura ad X del top e l'attaccacorde a trapezio col nome del modello. Lo strumento è completamente originale, con meccaniche Grover G98 G, ponte in palissandro e custodia originale in tweed, e apparteneva al jazzista americano Marty Grosz - classe 1930, fedelissimo delle L-5 acustiche.
The new version of the L-5 with 17" body - and so called 'advanced'. This '36 guitar still has many transitional features such as the smaller, unbound f-holes and the short (24.3/4") scale like the old 16" model, but also many new features peculiar to this version, like the X-braced top and the larger trapeze tailpiece with the L-5 name engraved. This guitar is 100% original, with Grover G98 G tuners, rosewood bridge and tweed original case, and belonged to american jazz player Marty Grosz - born in 1930 and true-blue acoustic L-5 player.