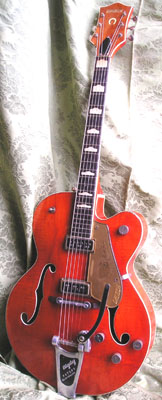 Orange, single cutaway. A typical example of the '57 version of the all-time Gretsch classic, with the following specs: "humptop" inlays on rosewood fingerboard, metal nut, large headstock with horseshoe inlay, oval-button Grover Sta-Tites, two-piece maple neck, hollow maple body (without 'sound-post'), two DeArmond 'Dynasonic' pickups, Bigsby B-6 vibrato, precompensated aluminum bridge with rosewood base (the new 'bar' bridge was introduced only in late '57), 'signpost logo' pickguard, three knobs on the lower bout for individual volume and master tone controls, master volume knob on the upper bout, one pickup-selector switch.
Very beautiful guitar with all original parts. The body has a beautiful flamed top, quite unusual for '57, really gorgeous. As it often happens with Gretsches, there is some unexpected feature: the earliest version I have encountered of the 'neck dowel' in the neck-body joint, which is always considered as a typical '58 feature. Excellent conditions: neck is solid and straight , binding shows no problems except for three fragments missing on the headstock. There is some finish checking, but finish overall conditions are good, with a few dings and scratches here and there, especially next to the fingerboard extension; neck's finish shows wear. Hardware is in excellent shape, except for gold plating wear on tuners and knobs.
A few flaws: a little plugged screw-hole form a different tuner is visible under the high-E tuner (see the tuner pic); there are visible signs and two little plugged screw-holes from a different Bigsby (Guild-style) once installed on the guitar, now replaced by the correct B-6 whose old traces are still visible on the top (see bigsby). Original and intact pickguard, with signs of a concealed name once written on the flip-side and then touched-up.
Original Gretsch case, Ess & Ess brand, unfortunately not the 'cowboy case', yet a solid and original vintage case. A great classic, a must for the Gretsch and "real vintage" guitar lover.
6120front - in case - body1 - body2 - body3 - body4 - back - body back - headstock - neck - bigsby - pickguard - bridge - dowel - knobs - pickups - tuner - switch - case