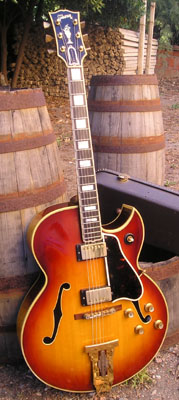 iced-tea sunburst. From the McCarty-era, the best of the best: an ultra-gorgeous florentine-cutaway L-5 CES. Conditions are unbelievable, as close to near-mint as anyboby could imagine, and you know we don't use these terms very often.
Iced-tea is more reddish than a regular brown sunburst, and less red than a cherry sunburst. Hand-carved solid spruce top with exceptionally fine grain, mild-flamed maple back and sides with nice vertical grain, three-piece flamed maple neck with two mahogany laminates, multi-bound ebony fretboard with pearl block inlays. After a close inspection, we believe that also the back is still made of solid woods, instead of the laminated backs used by Gibson in the mid-late 60s. The tune-o-matic bridge with rosewood base is the pre-'63 style without the "retaining wire" to hold the saddles in place, and this detail makes us think of very early '64 as production date.
Two humbuckers with the Patent Number decal, with exactly the same specs as late PAFs ... with the only difference in the decal!. Tuners are gold Kluson Seal-Fast. Gold hardware, with worn plating especially on pickup covers. Spectacular conditions, almost no playing wear, no checking, no belt-buckle wear, rich and beautiful unfaded color. Very minor cracks near the jack socket, professionally stabilized and oversprayed (in that area only), a very clean job that you'd never noticed if I didn't tell. Perfect playability, easy action, beautiful fretboard, warm and clean sound in the great tradition of jazz guitar.
A great L-5, from both musical and collectibility point of views, with a nice and clean original hardshell case, black with yellow lining (repaired handle).
front - in case - body1 - body2 - body3 - back1 - back2 - body back - headstock - bridge1 - bridge2 - pickups - flame - knobs - tuners - jack - case